Back To All Coaches
About Carlos
Carlos is a humor writer and teacher who has been a contributor at The Onion and frequently publishes in The New Yorker and McSweeney's, for which he wrote several of the site's most-read articles in 2020, 2021, and 2022. His writing has been performed on the NPR podcast Selected Shorts, and his debut book, Spoilers: Essays That Might Ruin Your Favorite Hollywood Movies, is forthcoming in September 2023. In addition to writing, he regularly performs sketch comedy and was featured in NYC SketchFest 2019. He has taught satire and personal essay classes at The Second City, and has been a guest lecturer at Johns Hopkins University and the St. Nell's Humor Writing Residency. 
Before devoting his creative energy to writing and teaching, Carlos worked in electrical engineering, which he studied at MIT. "Engineering and writing both require finding unexpected connections," he says. He approaches writing with an analytical mindset, dissecting the process in search of fundamental truths about what makes for compelling stories. Unlike in math and physics, there are no definitive rules about what works and what doesn't. "This dichotomy presents me with an ever-interesting problem!" He shares his findings and his humor in Shades of Greaves, his topical satire and writing advice newsletter.
"I find it deeply rewarding to help students and writers tell stories only they can tell. And as someone who discovered their passion relatively late, I understand the value of taking stock of one's life experiences to arrive at fresh insights."
Desert Island Media: 
Candide
by Voltaire
The Hitchhiker's Guide to the Galaxy
by Douglas Adams
Abbott Elementary
(my island has solar-powered TV)
Favorite Pastimes:
Gardening
Listening to jazz and 90s hip-hop
Spoiling my cat, Luna
Hidden Talents:
Naming other shows that minor character actors have starred in
Traveling far using few airline miles
Driving places without a navigation app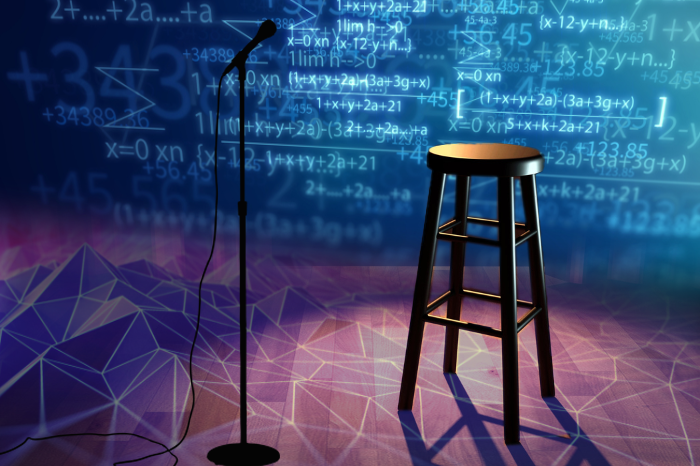 Writing as a "Math Person"
The lights of the theater dimmed and all I could think was, "Is this really a good idea?" From a young age, I'd believed I was destined for a different kind of performance. But here I was, at age twenty-seven, backstage at Improv Boston, about to perform a sketch comedy show. Three years later, I would quit my electrical engineering job to pursue writing and teaching full time.
Read More