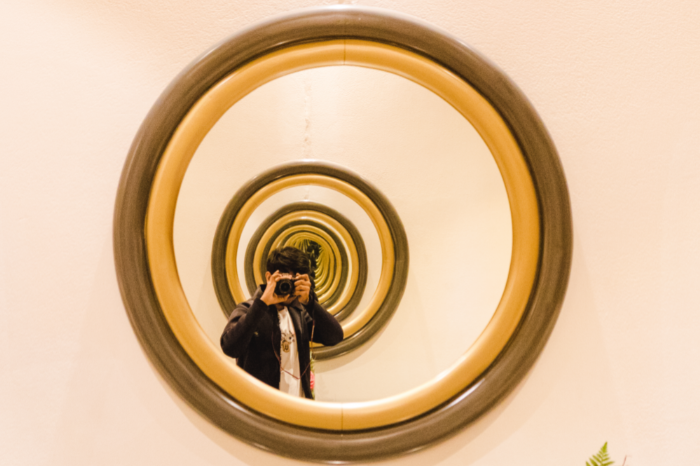 Her email arrived thirty minutes before we were to meet. The student — I will call her Sarah — had written a draft of her college-application essay, which she had dutifully sent to me two days earlier, as requested. She was seeking feedback so that she could make improvements in a new draft. I had spent time with her words, finding between and behind them opportunities for exploration. I was prepared for our conversation — until I read her email.
She wrote: Attached is the same draft I sent you, but my parents had someone else look at it. The second version on the document was primarily written by my dad.
I looked at the clock and then opened the attachment and began reading. First I considered the comments of the "someone" to whom Sarah's parents had sent her writing, and then I entered Sarah's father's version of her essay. As I read, my plans for our session grew more complicated, and more significant.
When Sarah arrived with her mother, I had her original draft printed out, sitting on the table between us. Right beside it I had placed her father's draft. Sarah's mother took a seat next to her. Although it's our policy at Hillside to work directly — alone — with each student-writer in order to encourage ownership of the essay-writing project, as well as to ensure uninhibited expression in our dialogues, I broke policy this time. It was important for me — but especially for Sarah — that I share what I had to say with both her and her mother.
I placed my hand down on Sarah's draft. "I've really been looking forward to talking with you about this," I said. "I find your experiences very interesting." She smiled. Then I lifted my hand and moved it to her father's version. "But first let's talk about this."
Fortunately, I could approach Sarah's predicament in a way that was at once direct and through a back door. It wasn't hard to demonstrate how inauthentic her father's draft was. Of course it was inauthentic. The very word "authentic" comes from autos, meaning "self," and the self driving much of the essay was not Sarah's self. But beyond that problem, or inside it, was the conspicuous compulsion to make Sarah stand out, to make her endeavors and her reflections on her seventeen-year-old life come across as extraordinary. At the table, I merely read out loud some of the long, over-reaching sentences with which Sarah's father was striving to highlight her dedication to a challenging and longstanding activity of hers. There was mention of her altruism and her grace and her physical strength, her discipline and her trust and her resilience. Between the reader and Sarah was a voice, a very hardworking one, with its own unmistakable mission.
I understood the compulsion. I'm a parent, too. I'm also a son of a proud, ever-cheering mother. I knew this voice was driven by love, devotion, and belief. But something else was in overactive operation: worry. Worry that others wouldn't be able to see and understand how exceptional Sarah is, and how hard she had worked. A worry that blurred understanding of the purpose of the essay. Add to this the concern, even frustration, that the essay would be the only place to get the message across, and somehow the extraordinary Sarah had to be conveyed in 650 words or fewer.
And, by the way, the clock was ticking. Sarah was applying Early Decision. October had already begun, and Sarah had very little time available around the demands of her academics and her extracurricular pursuits.
The college-application essay is not a challenge to hit the bullseye of a target. It is, rather, an opportunity to engage in a process, one that begins with rejecting the notion of a target and investing in the patient collection of specific truths, however small, and any feelings attached to them.
All of this explains why there were two versions of Sarah's experience on the table between us. Sarah's version was cursory, but it held promise. Her father's version was vigorous, and it posed danger. In fact, it had already done damage to a project that is meant to be personally meaningful.
Sarah's cheeks had reddened a little as I had shared selections from her father's efforts. I didn't need to state the obvious: that the story she had available to tell had been hijacked, and as a result her confidence in her own abilities to tell her story had been undermined. Her ownership of the project needed to be re-established, or perhaps established securely for the first time. So, our session would not be about revision as much as about repair. Together, Sarah and I needed to repair her relationship with the opportunity before her.
"We need to talk about the truth," I said, "because that's where your better essay is hiding, in the true details of your experience. It's certainly not here in your father's effort, but it's also not yet here in your original draft. It's in the conversation we're going to have. Are you ready?"
Sarah's mother, who had been nodding as she listened, remained quiet as we then embarked on the kind of open, exploratory, back-and-forth that is central to our process at Hillside. We coaches are writers ourselves, which means we are hungry for detail; we depend on and delight in the discovery of possibly significant specifics. I pressed Sarah gently but insistently to tell me in detail, and then in greater detail, what she meant and how it felt. In order to help her most effectively, I needed to enter moments she knew — moments that only she knew — in order for us, together, to recognize the potential of and in them. On the whiteboard I wrote words she spoke beside drawings with which I tried to externalize what she was seeing in her mind's eye. We talked until a particular experience she knew intimately had grown up around us, in imagined form, in the air of the office. And then, capable of being more observant of her own experience, she was able to reach for reflective words that were purely hers. We had discovered — that is, we had taken the cover off — her experience and were now able to peer in and, with a deeper curiosity, feel around for what felt honestly meaningful.
Sarah's father's essay was written, unavoidably, from the outside. Sarah had been asked to tell, to narrate, her inside story. The root of narrate means "to know." The one who narrates is the one who knows.
I am sharing Sarah's essay-writing experience because it returned to mind after I learned of the disturbing, fraudulent behavior revealed in reports about "the college-admissions scandal," as we've come to refer to the conspiracy. Such bold and extensive deception, involving the complicity of a network of agents, is very different from the picture of a parent with pen hovering over his child's writing. But one of the effects on me of the breaking news was my desire to protect the project of the college-application essay, a desire fueling me there at the table with Sarah and her mother. In the fervor of media reports about fakery, I felt a need to underscore the essential role of the truth in the project. I recognized in myself a concern that the array of lies repeatedly detailed in the news was going to taint what is, in fact, an experience that can do a lot of good.
And then, just a few days after the news broke about the scandal, I received some help in my inbox. I clicked open an email from a parent of a student who worked with Hillside coach Cara Feinberg last summer. The mother, looking back on her son's efforts, wrote:
The time spent with Cara taught him many skills, and her insights and feedback were invaluable. Though she gently guided him, she left the ideas and the writing to him, and he was incredibly proud of his finished product. Honestly, I could shed a tear when I think of him jumping in the passenger seat last summer with a huge smile saying to me, "I think this is REALLY, REALLY good." He was proud of his work.
So, thank you both so much. We really feel that his essay was a huge part of his success, and it has given him so much confidence for his future.
Lastly, I'd like to thank you, in light of recent, disgusting events, for your authenticity and your work ethic. Not once did I feel that he was not the driver of his story, and Cara, while offering guidance and insight, left him to develop a story that he took great pride in.
One of our ways to describe what we do at Hillside is to take care of the writing by taking care of the writer. The college-application essay is not a challenge to hit the bullseye of a target. It is, rather, an opportunity to engage in a process, one that begins with rejecting the notion of a target and investing in the patient collection of specific truths, however small, and any feelings attached to them. The seed of every memorably distinctive, full-grown essay is a writer's feeling about a particular detail. So, we begin small, in discovery, and in lively conversation, from which grows the positive emotional relationship to the project that is crucial for progress. Gradually, with the right attention and trust, the path clears for the development of a student's pride about his or her or their story, being the one who knows.
Allan is Hillside's founder and a coach.